WELCOME TO
Covid-19
With enhanced safety measures in place, our practice and policies look a little different right now.
back to ALL DENTAL TOPICS
Covid-19
Due to Covid-19, extra safety protocols have been put in place affecting how you arrive at our office and what is expected while here.
New protocols include:
Call or text to let us know when you've arrived. Please wait in your car. We will call you when it's time to enter for your appointment.
When you arrive in the office (mask on please) you will be greeted by our patient concierge and will need to apply hand sanitizer, get your temperature checked, answer some screening questions and fill out some paperwork.
A team member will escort you into the clinic for your appointment, then back to the front desk when your appointment is finished for payment.
We also require that only one parent or guardian accompany your child to our office, and that they are not left unattended. If your child is aged 10 and under we ask that you stay with your child during their appointment, if over 10 you can wait in your car if you wish.
Please do not come to our office if you or your child have any of the symptoms of COVID-19 (fever, cough, runny nose, sore throat, shortness of breath/difficulty breathing). We will waive any late cancellation fee.
Please watch this video we've created for more information.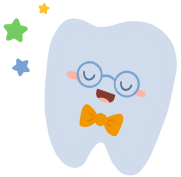 Tooth Be Told
There has not been a single COVID-19 case linked to a dental facility in Alberta. We have some of the best sterilization and hygiene practices of any industry.
back to ALL DENTAL TOPICS
back to ALL DENTAL TOPICS