WELCOME TO
X-Rays
When we use them, why we use them, and how we minimize radiation.
back to ALL DENTAL TOPICS
X-Rays
X-rays allow us to detect much more than cavities. x-rays may be needed to survey erupting teeth, diagnose bone diseases, evaluate the results of an injury or plan orthodontic treatment. X-rays allow us to diagnose and treat conditions that cannot be detected during a visual examination.
X-rays are especially good for helping us to see between the back teeth in your child's mouth, for example to see if a cavity might be starting there. The integrity of the back teeth of children is critical as they need these teeth until the age of 12, at which point they fall out and the adult/permanent teeth come in. Pre-school children are especially prone to cavities between the teeth when there are no spaces between the teeth. Early detection can save money and minimize any treatment needed.
Although the amount of radiation from a dental x-ray is extremely small, it is not negligible. Radiation is cumulative over a lifetime which is why we do our best to minimize exposure. We use digital radiography which exposes the patient to 80% less radiation than conventional film and we take as few x-rays as possible.
In general, children need x-rays more often than adults as their mouths are continuously growing and changing and their enamel is thinner meaning cavities can grow faster in a baby tooth. It is important to consider that dental x-rays represent a far smaller risk than undetected and untreated dental problems. The frequency of x-rays will ultimately be determined by your child's individual needs and risk.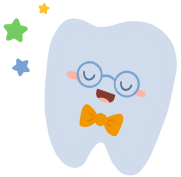 Tooth Be Told
One coast-to-coast round-trip flight has 5,000 times more radiation exposure than a single dental x-rays.
back to ALL DENTAL TOPICS
back to ALL DENTAL TOPICS